15th February, 2023
Launch of Ready to Administer IV Levofloxacin 500mg/100ml Bag
Bowmed Ibisqus is pleased to announce the launch of a Ready to Administer Levofloxacin Bag. The product is a standard 500mg/100ml dose presented in a 10 pack and customers may prefer this more convenient dose form and the benefits it brings regarding reduction in glass waste. The bag is packaged with a foil overwrap to protect the product from light and the overwrap clearly displays the essential product information.
This new product line has been listed with AAH under code LEV0316T and stock is available for customers effective immediately.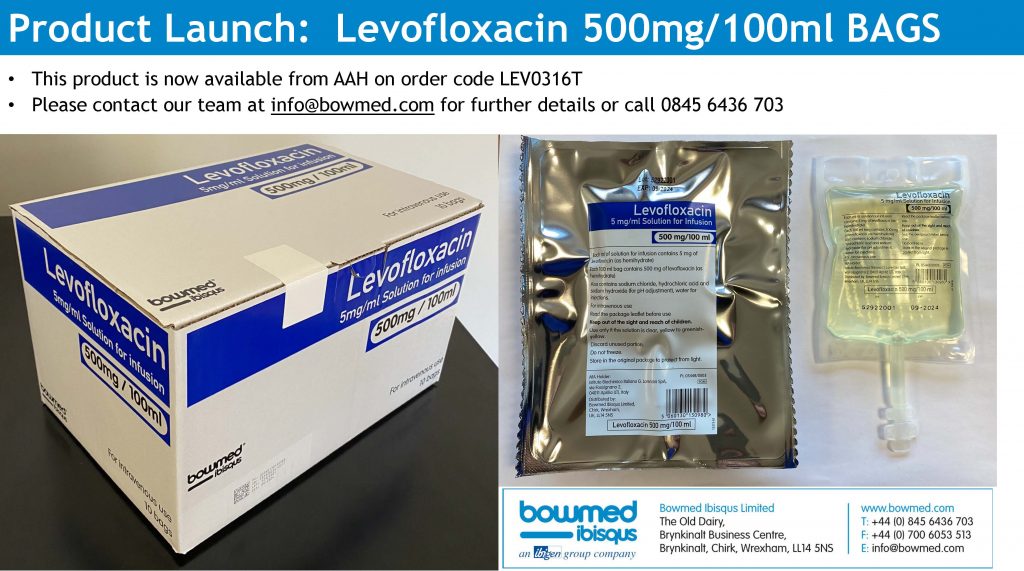 Our original product format, Levofloxacin 500mg/100ml Vial x 1pk, will continue to be available via usual supply routes and this may be preferred by hospitals with a lower demand for the product. This product contains a hanger label and is therefore also Ready to Administer.
If you would like to discuss a pricing arrangement or stock availability for Levofloxacin Bags or any of our other products, please contact us directly on +44 (0)845 6436 703 or email us